BEND OREGON
Real Estate
When it comes to Bend OR real estate, you're buying more than just a home. When you move to Bend and decide to buy a home, you're investing in the lifestyle. Bend isn't your typical suburban enclave and it's definitely not a tiny rural village. Bend draws visitors from all over the world to its Pacific Northwest playground.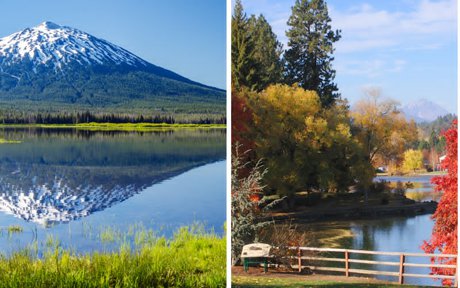 CALL BEND HOME
Some might say that time stops here. No matter your age or interest, there's something for everyone in Bend. This is the place where dreams are made of. Many people visit Bend every year, but only the truly fortunate get to call this beautiful place home. Scott and Robyn of Tuttle & Tuttle can make your dreams a reality by helping you find the perfect Bend OR real estate.
WHY BEND OREGON?
The reasons to buy Bend OR real estate are endless. The beautiful sunsets that fill the sky with rich pinks, purples, oranges and yellows. Running the Deschutes River Trail and collecting hellos from each person and dog who crosses your path. There's nothing better than living the Bend lifestyle.
Go skiing, mountain biking and golfing all on the same day
From St. Charles Medical Center to naturopaths, chiropractors and other alternative medicine practitioners, staying healthy in Bend is a breeze
Catch nationally-touring music acts at the Les Schwab Amphitheater during the summer
Bend offers amazing educational opportunities from award-winning public schools to a variety of magnet and alternative schools
OSU Cascades is in the process of expanding to be a full four-year university
Smile when traffic backs up because it's mostly likely due to a deer crossing the street
We could go on about the reasons to buy Bend OR real estate, but considering you've found yourself on our website, you already know why Bend is a magical place.
LIVE THE DREAM
BEND OREGON REAL ESTATE
Contact Scott and Robyn Tuttle to learn more about Bend OR real estate. We'll show you the way home.